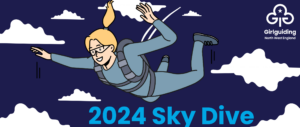 Do something DARING and raise funds for Girlguiding North West England
Ever wanted to feel the wind in your hair? Now's your chance! In 2024 we want to raise money for our region by running a sponsored tandem sky dive. Money raised from this event will support girls and leaders across the north west.
Here are some of the details about the event and what you would need to do if you want to take part.
We hope to schedule the event in early summer of 2024 at a location near Lancaster. The potential dates are listed below.
The cost of taking part (going to the sky dive company) is £350, this can be fundraised or paid for yourself.   If you fund raise for the entry fee, we ask that you aim to raise a minimum of £500 in total for the event.  A £100 non-refundable deposit is required to secure your place. Funds raised over the £350 then go to Girlguiding North West England!
You must be over the age of 16 to take part, you must weigh over 7 stone, but no more than 13 stone for female particiapants, or 15 stone for male.  You may also need a declaration of fitness form signed if you have a predisposed medical condition.
If you're interested, please fill in the below form with your availablity and we will be in touch with more details as soon as we have it!